Email Marketing System (EMS)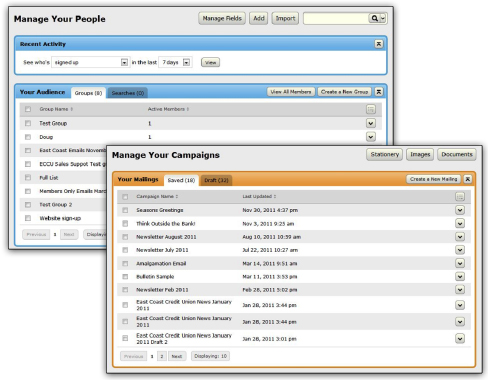 Citrus is an Email Marketing System that allows you to retain members and keep them informed by sending mass emails to an opted-in list.
Citrus allows you to:
Track your emails to see who opened them, and who clicked through or shared them.
Use available templates to create eye-catching emails to send to your clients.
Organize your audience into multiple groups and lists.
Be in compliance with Canada's Anti-Spam Law.
Increase sales, fill seats, raise brand visibility and accelerate growth.
Citrus is faster and more affordable than traditional emailing or print mail, and offers a higher return on investment when compared to many traditional marketing mediums.
Intuitive Click & Build
Create stylish email campaigns using our intuitive click-and-build screens, or upload your finished html campaigns.
Easy List Management
You can easily organize your recipients into groups, or use our advanced search-and-segment feature to find ( and send to) people based on their interests, their geography, their pat response and more!
Industry Best Practises
Cirtus ensures you're on board with the latest industry trends and best practises to increase your delivery rates and improve your results.
Message Scheduling
Our campaign feature helps you create stylish email campaigns and send them using out sophisticated delivery network.
Measurable Results
You will see who opened your campaign, clicked on every link, forwarded your campaign to friends or signed up to get future emails.
Integrated Survey Engine
Survey your members with the same tracking abilities and built right into your citrus email platform.